WELCOME
Greetings from our corporate headquarters in Providenciales on the beautiful Turks & Caicos Islands. The islands are an independent jurisdiction and a member of the Commonwealth. Our clients agree it's always worth visiting us in the Caribbean, not just for business purposes.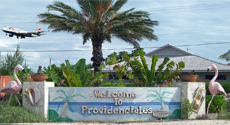 For more than 10 years now, Fiumicino's activities cover the globe, and we truly feel at home everywhere. Therefore, our clients benefit from us as a global partner not only with a deep understanding of local customs and mentalities, but also with a worldwide network of high-level contacts.
Our core team of consulting professionals with decades of experience is running our clients' projects, and locally based independent industry related experts complement the project teams when needed.

---
WHO BENEFITS FROM US
Fiumicino is not one of the BIG4 consulting firms, but we are convinced that this fact, however, is of tremendous advantage. Our corporate structure is lean, which results in optimized flexibility and shortest response times.

PRIVATE SECTOR
In a globalized environment, our private sector clients need global solutions more than ever.
We are specialized in serving midsize and large corporations as well as (ultra) high net-worth entrepreneurs. Small enterprises and start-ups are not in our focus.

PUBLIC SECTOR
The public sector faces globalization as well, especially on provincial and municipal level. With the private sector being global, even a local investment is decided about on international level.
We assist the public sector on federal, provincial and municipal level.

COJACOR GROUP
COJACOR Group is active in energy and infrastructure worldwide, two sectors of major importance nowadays.
We support the companies as well as the respective project owners with due diligence, preparation and project management services.

FIUMICINO
"Fiumicino"" (pronounced "few-me-chino") means "Little River" and is the name of an Italian town primarily known for hosting Rome's international airport, Fiumicino Airport (FCO), alternatively also called Leonardo da Vinci Airport.
SOME REFERENCES
Some current and previous examples of corporations and organizations in various industries assisted by Fiumicino's professionals:


TURKS & CAICOS
You may ask if our home base is one of those intransparent tax havens. No, it's not!
The Turks & Caicos Islands are OECD compliant (whitelisted) in transparency and taxation standards, with data exchange agreements signed with many countries.
... of course, we must admit that taxes here are kept on a very reasonable level indeed.